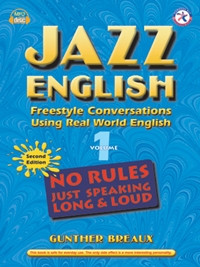 Jazz English 2/e 1
Writer

Gunther Breaux
ISBN

978-89-8446-468-1
FK Level

-
Page/Size

151p / 210*278mm

The Jazz English series has been developed for Korean students who are learning English.
Learners can find Korean/English-language wordlists throughout the 2-level series.
We also publish a Japanese-English version of Jazz English. To purchase this version, please contact:
Compass Publishing Japan at contact@compasspub.jp
Almost
Free Talking A//B
20 pair-conversation questions with example answers. These include everyday, real-world questions and answers for starting long and real conversations.
40-60 real world vacabulary words and idioms. These will imporve your vocabulary and your personality. You will sound fluent before you are fluent.
Real World
Dialog
Helps you speak realistically and naturally. (No more "I'm fine, and you?")
Top 10 Cultural
Differences
Increase your knowledge of American culture and provide more conversation topics.
Vocabulary
Crossword Puzzle
Crossword puzzle helps you learn and remember the vocabulary in a fun and creative way
Speaking Ammunition
Writing sample helps you express yourself in longer sentences and clearer paragraphs.
Free Talking Frenzy
24 more free talking conversation questions with a wide variety of partners.