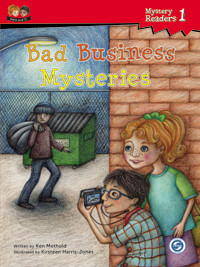 Bad Business Mysteries - Katie and TC Mystery Readers Book 1
Writer

Ken Methold
ISBN

978-1-61352-726-9
Target

Primary - Secondary
FK Level

3.5-4.5
CEFR Level

B1+
Page/Size

36p / 150*210

Story1: The Case of the Disappearing Newspapers
There is chaos in town as newspapers keep disappearing before customers
have a chance to read them! No one has seen or heard anything to explain
why this is happening. Follow Katie and TC as they fi nd out and restore
order to the poor residents of the town!
(WC: 1801 / Lexile: 620L)

Story2: The Case of the Cheap Soft Drinks
A shady new market vendor is selling brand-name soft drinks at the local
market for a price that's too good to be true! How can the vendor aff ord
to sell the drinks at such a cheap price? Join Katie and TC as they fi gure
out what's going on at the market once and for all!
(WC: 1790 / Lexile: 700L)